Welcome to our 2nd Monthly Blog Post where we will be discussing recent Cyber Attacks, Cyber Security and Recent Security Updates for commonly used programs.
WannaCry Hackers Cash Out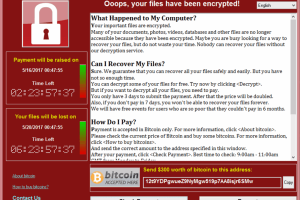 Following the WannaCry Cyber Attack which infected thousands of networks across the globe in May 2017 the attackers behind this crime have cashed out all bitcoins.
Earlier in the month over £120,000 in Bitcoins were cashed out to alternative CryptoCurrency wallets.
Despite the recent cash out it is also worth mentioning that a member of the North Korean Hacking Group' 'Lazarus Group' was charged for his part of this Cyber Crime.

Eurostar Hit by Hackers
On the 31st October, Eurostar reported that it suffered a credential breach similar to British Airways in September which involved customer's private information being leaked.
Unlike the British Airways Breach – Eurostar has reported that only accounts were compromised and no credit card/financial information has been leaked to malicious hackers.
A Malicious Browser Extension Stole Private Facebook Messages of 81,000 Accounts
Following Facebook's recent breach in September which compromised 50 Million Login Tokens it has since been reported that due to a vulnerability in a malicious Google Chrome extension, hackers have been able to compromise at least 81,00 accounts which are now being sold for as little as 0.10p each.
The attack is thought to be aimed at individuals from Russia, Ukraine, US, UK & Brazil according to the BBC.
It is advised that all Facebook Users ensure they are aware of any third party extensions installed in Chrome and to remove them if you do not think they are legitimate.